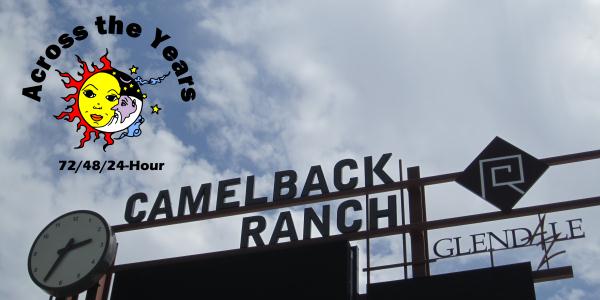 It is with great pleasure that we announce the opening of registration for the 28th running of the Across The Years 72, 48, and 24 Hour Footrace! With this year's event comes a new location,
Camelback Ranch – Glendale
, a brand new, state-of-the-art baseball spring training facility utilized by the Chicago White Sox and the Los Angeles Dodgers. The course is a flat, 1.05 mile loop on primarily crushed gravel. The course travels past lush greenery, desert landscaping, and even a running waterfall. We invite you to take a brief
photo tour
of the path. We look forward to sharing New Years with all of you, enjoying old friends and a new home!
With the increasing popularity Across The Years in recent years, the most difficult aspect of the event is undoubtedly the lottery. The race was enjoyable and special at Nardini Manor for those drawn to participate, but the limited size of the track and facilities meant many were turned away. For this reason, we are most excited to announce that the large size of Camelback Ranch will allow us to forego the lottery process and return to an open registration! Starting today, anybody may register for their choice of the 24, 48, or 72 hour.
As past runners have noticed, the website is also sporting a new look. After years of work as our webmaster and statistics guru,
Lynn Newton
is taking a well-deserved retirement from the ATY race committee. We would like to extend a great deal of gratitude to Lynn for all of his contributions to the character of our race. Much of Lynn's work is hand-crafted, including the runner bios, race day tracking, and vast database of statistics. Maintaining these features is not a trivial task without Lynn's experience, so please bear with us as we migrate these features to the new website. In the mean time, the
old website
will still be accessible for viewing past race information.